The Special Education Department welcomes and supports all students with a variety of exceptionalities. We believe that all students can succeed given their unique strengths and differences. Keeping the student at the centre, we are committed to ensuring that students with special education needs will learn in a supportive and inclusive environment.
FOLLOW our LIFE SKILLS students on Twitter! @AssumptionRm103 and @MrsContino
Special Education Resource Teachers
Assumption students are integrated into all aspects of the school environment. Our Special Education Resource Teachers work collaboratively with students, staff and parents in variety of ways:
Assisting with program accommodations and/or modifications
Developing individual education plans (IEP)
Providing GLE instruction
Supporting students needs by promoting accessibility, honouring diversity and mutual respect
Individual Education Plan
Semester 1 IEPs are being developed. An email inviting your input was sent home Friday, September 13th, 2019. IEPs will be mailed home by October 15, 2019. For those awaiting review of documents, you will be contacted with updates by a SERT.
Office 365
To enhance the learning environment for students, we are currently using Office 365 to assist our students in developing organizational and inquiry skills. Parents/guardians are encouraged to explore Office365 with their child.
Transitioning to College & University
To ease the transition to post-secondary, students use myBlueprint to plan for post-secondary and beyond by creating a personal inventory of their skills and talents throughout their secondary school years. Please see your Resource Teacher and/or Guidance Counsellor for additional information.
Colleges and Universities fall under the Human Rights Act. Each institution will have its own policies and procedures regarding required documentation. Given that each student's needs are unique, services and accommodations are established on an individual basis and based on the documentation of the student's disability. It is therefore the responsibility of the student to investigate what documentation is required to support their learning needs. For further information, please visit Transition Resource Guide at  http://www.transitionresourceguide.ca/
Humber CICE
The Humber CICE Program would like to invite you to our October Information Night  on Tuesday, October 1, 2019 at 6:30 pm at Humber College – North Campus.
This is a great opportunity to learn more about the CICE Program and to learn more about the application process.
We will be accepting applications with supporting documents this evening.
Staff and students from the CICE Program will be there to share about the CICE Program
YORK UNIVERSITY Student Accessibility Services
Head Start – Head Start is an opportunity for students to connect with us early and to get support with filling out the online registration form and submitting documentation to us in person.  During this event students will be booked into a Registration appointment over the summer, so they can meet with us over the summer to set up accommodations before the term starts.  We will also have staff on hand to answer questions.  Parents or other supportive people are welcome to attend.  DATE/TIME: Tuesday, June 25th from 4-7pm.
Student Accessibility Services Open House – Our open house provides another opportunity for newly registered students to come onto campus prior to beginning their studies.  We will discuss supports and services that can help to make the transition to York a success.  Attendees will have an opportunity to ask questions of Accessibility Counsellors and to meet other new students.  Upper year students registered with Student Accessibility Services will also be present to answer questions.  All students who registered with Student Accessibility Services during the summer term are invited to attend.  DATE/TIME: Sunday, August 25th from 1-4pm.
Project ADVANCE – Project ADVANCE (PA) is our free summer transition program that is designed to prepare incoming York students with documented disabilities for success in their post-secondary studies.  Participants will have the opportunity to: learn about assistive technologies, become familiar with York's Keele campus and the supports that are available here, examine individual areas of academic strength and weakness as they relate to the challenges of university studies and develop self-advocacy skills.  DATE/TIME: Monday, August 26th to Friday, August 30th from 10-3:30 daily.
One of the keys to success is connecting early.  Please encourage any of your students attending post-secondary next year to connect with their institutions accessibility services early as this can ease a lot of anxiety and can help us support students in a timely way prior to the commence of their studies.  For more information about registering with Student Accessibility Services at York University, please visit https://accessibility.students.yorku.ca/new-students
MCMASTER UNIVERSITY Student Accessibility Services
McMaster is offering a program to students to support transition to University. The program is in two parts:
Shifting Gears: summer workshops that include: a mock lecture to learn note-taking skills, academic accommodations process, use of the library and essential skills necessary to be successful at university.
Student Ally: A mentoring program where the allies (mentors) help with navigating the campus, skills development and social events to encourage students to meet each other.
For more information:  https://sas.mcmaster.ca/
CAREER PATHWAYS at MOHAWK COLLEGE
Career Pathways is a one year program that provides a supportive and empowering post secondary pathway for students who may not have otherwise considered higher education for a variety of reasons.
These reasons may include but are not limited to challenges with a traditional learning environment, alternate learning styles, or learning disabilities.
The Career Pathways program focuses on preparing graduates for both career and educational opportunities by developing personal, social, academic and career-related strengths and skills.
Visit our program page.
For further information, please contact Elisabeth Sykes at 905-575-1212 ext. 3207 or send her an email.
Autism Job Club
September 16 Job Club Annual Kick-Off Event Burlington
October NATIONAL AUTISM MONTH
October 7 Job Club MEETUP (all welcome) Burlington
October 21 Job Club MEETUP (all welcome) Burlington
November 2 FRAME of MIND : autism + employment conference
November 4 Job Club MEETUP (all welcome) Burlington
November 18 Job Club MEETUP (all welcome) Burlington
December 2 Job Club MEETUP (all welcome) Burlington
December 16 Job Club Annual Seasonal Social
January 6 Job Club MEETUP (all welcome) Burlington
…
April 2 WORLD AUTISM DAY Employer Engagement Event
November 2   2019 Frame of Mind Conference (more here)
http://autismjobclub.ca/contact.html
Are you looking for employment?  
If you are a youth age 15 – 29 years old, currently unemployed, looking for a job or career and not attending or returning to full-time school or training you can qualify for this program.
If you are interested in attending this program, please call 905-825-6000 ext. 2777 or email YJC@halton.ca to register for an orientation session.
New Grassroots Social Group
WHO: Interested individuals on the spectrum and their families ages 17 to 117…
Calling all young, independent spectrum adults who want to be part of a fantastic NEW social group! Do you have a hard time making friends? No one to do anything cool with? We are looking for a group of people to set up our own social group! We will meet once a month to do something cool. Each family involved will commit to planning an event which can include movies, hiking, pottery, painting, wings and beer nights, picnics, trips to conservation areas and anything else you can think of!
COST: No cost to join, individuals are responsible for the cost of each event. Best efforts will be made to keep everything cheap and cheerful.
TIMING: Likely weekend afternoons or weekday evenings to accommodate school and jobs
LOCATIONS: Burlington/Oakville areas
Sue and her 22-year-old son with Asperger's, are spearheading this Social Group and are looking for others to join in on the planning and implementation of the Group. For more information, or to sign up, email Sue at HaltonSocialClub@yahoo.com.
JOB OPPORTUNITIES
Recreational Respite Inc.
Are you adept with social media?  Are you looking for a part-time postion?
Do you like to work from home?
Recreational Respite Inc. is currently looking for someone who could work with them to  manage their social media – Twitter, Facebook, Instagram. The candidate for this position would be able to work from home with minimal guidance from the leadership team and the hours might range from 5-10 hours per week. The hourly rate of pay would be $15.00- $18.00/hr.
Please submit your resume today!
NB – To be considered for these inclusive, RWA-supported job opportunities, you must be identified with autism spectrum disorder and/or intellectual disability.
To apply, please send your resume, cover letter and any accommodations you may require tojoin@autismjobclub.ca.
Questions? Call Maralyn at 905.332.1494
Specifically created for students in grades 6 through 12, this is the newest program offering in Halton and we are pleased to announce that space is now open and sessions begin this month! This new program enables students to begin preparing and adapting to the choices and challenges of high school – building self-awareness, how to express ideas and follow directions, and become a self-advocate in the learning process.The program includes an overview of the basics of learning and learning disabilities, an exploration of study skills and tips for success.Offered in two formats, depending on the age of the participant:Group Session (for students grades 6, 7, 8) –  Saturday mornings, 1 hour per week for 4 weeksORIndividual Sessions (for high school students grades 9 to 12) – weekday evenings, one hour per week for 3 weeks Thanks to support from the Burlington Foundation Community Fund we are able to offer this program at NO CHARGE info@ldahh.ca

Workshops, Conferences and Events
THE CENTRE FOR ADHD AWARENESS, CANADA
BACK TO SCHOOL
It's that time again! Are you preparing to get back to school either as parents of children with ADHD or as young adult with ADHD?
We know that ADHD can make school challenging. So we've put together back to school themed resources that will help you with getting back to school and getting through the year.
If you need support or information please feel free to get in touch
CADDAC Events
Children and adults who have ADHD usually have a few activities for which they can focus and sustain effort quite well. Yet they have much difficulty in focusing and sustaining effort for most other activities, even activities they recognize as important. This webinar will describe why those with ADHD can focus well for those few tasks that really interest them, but struggle to mobilize similar focus and effort for most other tasks. Dr. Brown will also discuss how and why medications may improve such difficulties
DEVELOPMENTAL SERVICES ONTARIO 
Wills and Estate Planning
53 Bond Street In the Library
Oakville ON
Driving Directions

Developmental Services Ontario in Partnership with Halton Support Services presents:

"An Evening with Jane and Tom" Learn more about the importance of planning for your loved one in this seminar on Wills and Estate Planning.

Estate Planning: Financial and Legal Considerations

Structuring the Will to maintain ODSP and the Role of the Henson Trustee

Substitute Decision Making: Power of Attorney and Guardianship

ODSP: current regulations and proposed changes

RDSP and the Henson Trust: Complementary Tools.

Click on the link below to register or RSVP.
JOIN COMMUNITY LIVING BURLINGTON'S CHOIR
Members will love to sing! They will
have lots of fun, while learning
important choral skills. Musical selections
will be a combination of contemporary
and classic songs, and the musical talents
of all will be nurtured throughout our 10
weeks together!
Choir leader: Deanna Shalala
When: Thursday's 3:30-4:30pm
September 26- December 4
(No choir Oct 17)
Christmas Performance TBA
Where: Moments Through Music Room
3057 Mainway Drive
Fee: $150
To register, contact:
Kate Matos
transitionalplanner@clburlington.ca
905-336-2225 Ext 321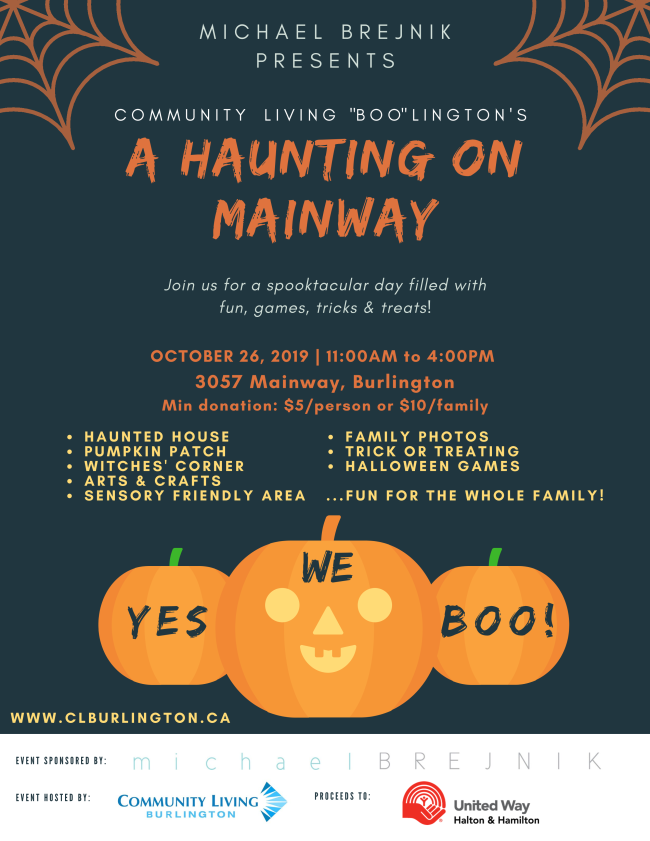 FIRST AID TRAINING
Training for people with a developmental disability who would like to learn skills in First Aid.
(Support Workers are welcome to attend for support)
First Aid Training can help you
• At work
• In the community
• At home
• At your day program
• Help someone or yourself when injured
• Know what say when speaking to Emergency Responders
For More Information and Registration contact Candice Keem Phone: 905 336 2225 Ext. 317 E-mail: passportcommunitydeveloper@clburlington.ca
CHALLENGER BASEBALL is a program that provides an opportunity for children with cognitive or physical disabilities to enjoy the full benefits of participation in baseball. Baseball games are played in a fun, safe environment where no score is kept. "Buddies" are assigned (one on one, where possible) to each participant. For more information, follow this link: BOMBA
External Links
Learning Disabilities Association of Halton
Association for Bright Children
Ministry of Children and Youth Mental Health Services
Region of Halton Community Services
Halton Down Syndrome Association
Enrichment Opportunities & Competitions
Students: Receive Remind notifications. See Ms. Berlasso to sign up! 
High potential students spend July living at a university while engaging in hands-on learning in STEAM & Entrepreneurship
SHAD looks for grade 10, 11 or 12 students who are: involved in their communities, creative & keen learners
A range of bursaries are available, ensuring the program is accessible to students with demonstrated financial need. Last year, we awarded over one million dollars in bursaries and scholarships. The cost of the program should not be the reason a student does not apply!
Youth Ambassadors Program with Canada
The Youth Ambassadors Program with Canada is a three-week exchange designed for Canadians to visit the United States of America. Conducted in the English language, the program brings together students, ages 15 to 18, and adult mentors from across Canada to promote mutual understanding, increase leadership skills, and position youth to make a difference in their communities. Program themes include: civic education, community service, youth leadership, and social inclusion.
https://web.plattsburgh.edu/offices/academic/cesca/youthleadership.php
ONTARIO SCIENCE CENTRE SCIENCE SCHOOL:  Spend a once-in-a-lifetime semester at the Ontario Science Centre Science School! The Ontario Science Centre Science School offers students a chance to earn their Grade 12 science and math credits and prepare for university in a unique setting. Though they need to be academically strong, students don't need to have the very highest grades to attend this program. They do, however, need a love of science, a desire to learn, and a real interest in interacting with people.  More information at http://www.ontariosciencecentre.ca/oscschool/
MATH and COMPUTING CONTESTS  https://cemc.math.uwaterloo.ca/contests/contests.html
Regular invitations to compete will be announced through the Math department or Ms Berlasso